Swiftwater RV Park on the Salmon River
Swiftwater RV Park is a quiet, relaxing, top-notch, safe, and pet-friendly campground with landscaped level sites located directly on the banks of the Salmon River in central Idaho – 2 miles outside of White Bird – and just 1/2 mile from Hwy 95. Swiftwater RV Park is situated 17 miles from Hells Canyon/Pittsburg Landing with easy access to jet boating, sturgeon fishing, and whitewater rafting. Outdoor recreation abounds with everything from huckleberry picking, quad riding (thousands of acres and endless miles of roads!), mountain biking, and hunting…plus tons of open space to explore in the gospel hump wilderness area. Idaho, the Gem State, is also the "wowee" state. Every time you go around another corner, WOWEE that's beautiful!
At an elevation of about 1,400 feet with over 300 feet of riverfront facing the Salmon River, this Idaho pet-friendly RV Park is quiet and relaxing for campers in big rigs, toy haulers, 5th wheels, & even vintage trailers or tents.
We are Veteran owned and operated and live onsite to offer terrific customer service and the cleanliness you deserve in an RV park. Our campsites offer 20/30 and/or 50 amp service *, including water and excellent WiFi, and use of our ultra-clean restrooms & showers. From beautiful back-in sites facing the Salmon River to nice-sized pull-thrus (no need to un-hook your big rig) – or for those camping in a tent – you'll discover that Swiftwater is a true gem – whether you are looking to spend the night, a week, or a month. *See our RV Park Map for site specific amp details.
An outdoor gazebo with a stone firepit is available for all guests and sits nestled among willow trees in a corner of the park on the Salmon River's edge. Bring your own lawn chair, or use ours. Plug in a crock pot to the electrical outlet and enjoy your dinner right here!
And the starry nights are awesome!
Mileage from White Bird, ID
Riggins, ID ........... 33
Kooskia, ID ........... 43
Kamiah, ID ............ 50
Lewiston, ID .......... 89
Boise, ID ............. 183
Moscow, ID ............ 121
McCall, ID ............ 80
Coeur d'Alene, ID ..... 201
Spokane, WA ........... 191
Missoula, MT .......... 186
Yellowstone, MT ....... 472
San Francisco, CA ..... 798
Salt Lake City, UT..... 549
Portland, OR .......... 424
Sun Valley, ID ........ 294
Reno, NV .............. 580
Seattle ............. 397
Glacier National Park ............. 523
Sydney, Australia ............. 7,949
Hong Kong ............. 6,765
London ............. 4,718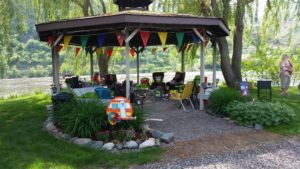 Smack-dab in the Middle of the State!
Swiftwater RV Park is perfectly situated for easy travel from any direction in Idaho, plus we're only 24 miles north of the whitewater capital – Riggins, Idaho. White Bird Idaho – the gateway to Pittsburgh Landing – Hells Canyon – is an easy halfway point in the state for those traveling from either the north or south. (Pssst….we're great for family reunions and other get-togethers! It's just 3.5 hours drive from Boise or Spokane)
Area Activities
It's just a short drive to many outdoor activities: fishing, hunting, whitewater rafting, jet boat tours, bird watching, hiking, biking, sightseeing, the gospel hump wilderness area, huckleberry picking, and bring side-by-side or quad ATV and enjoy over five fabulous trail rides directly from the RV Park!
Explore the roads and trails on thousands of acres and miles of wilderness right at your fingertips. Since Swiftwater RV Park is one of the closest campgrounds to Hells Canyon ( only 17 miles away) a very popular ride is into Pittsburg Landing, and beyond. Best yet, you can begin that ride directly from the campground!  No need to haul your ATV somewhere….just ride out of our driveway and leave your gear, vehicles, and belongings safe and secure right here.
Safe, offsite parking and storage adjacent to Swiftwater RV Park are available at nominal fees for extra vehicles. ATVs, trailers, boats, and Motorhomes for a day, a week, or by the month. Just give us a call to learn the details.